Buy this one and do it all: Camp, run trails, road trip, get groceries, scale mountains, or if you want, you could even live in it. For sale by Carl Montoya (@letsgomoreplacescarl on IG), co-founder of Nitro Gear and Axle  and JustDifferentials.com, is this epic 1987 Toyota Land Cruiser Troopy HJ75. It's a Troop Carrier imported from Australia that's been outfitted from new by Trakka into their Bushman pop-top model. After many miles on the East Coast of the United States, Carl bought this HJ75 and gave it a full body and mechanical overhaul to turn it into the absolute beast it is today. 
Sadly for him, Carl's family has outgrown this rig so he's had to put it up for sale, but that could be good news for you. Buy it for $97,000, which, to be honest, is a solid deal for a rig outfitted like this one. Don't know about you, but I'm about ready to buy this and bug right out.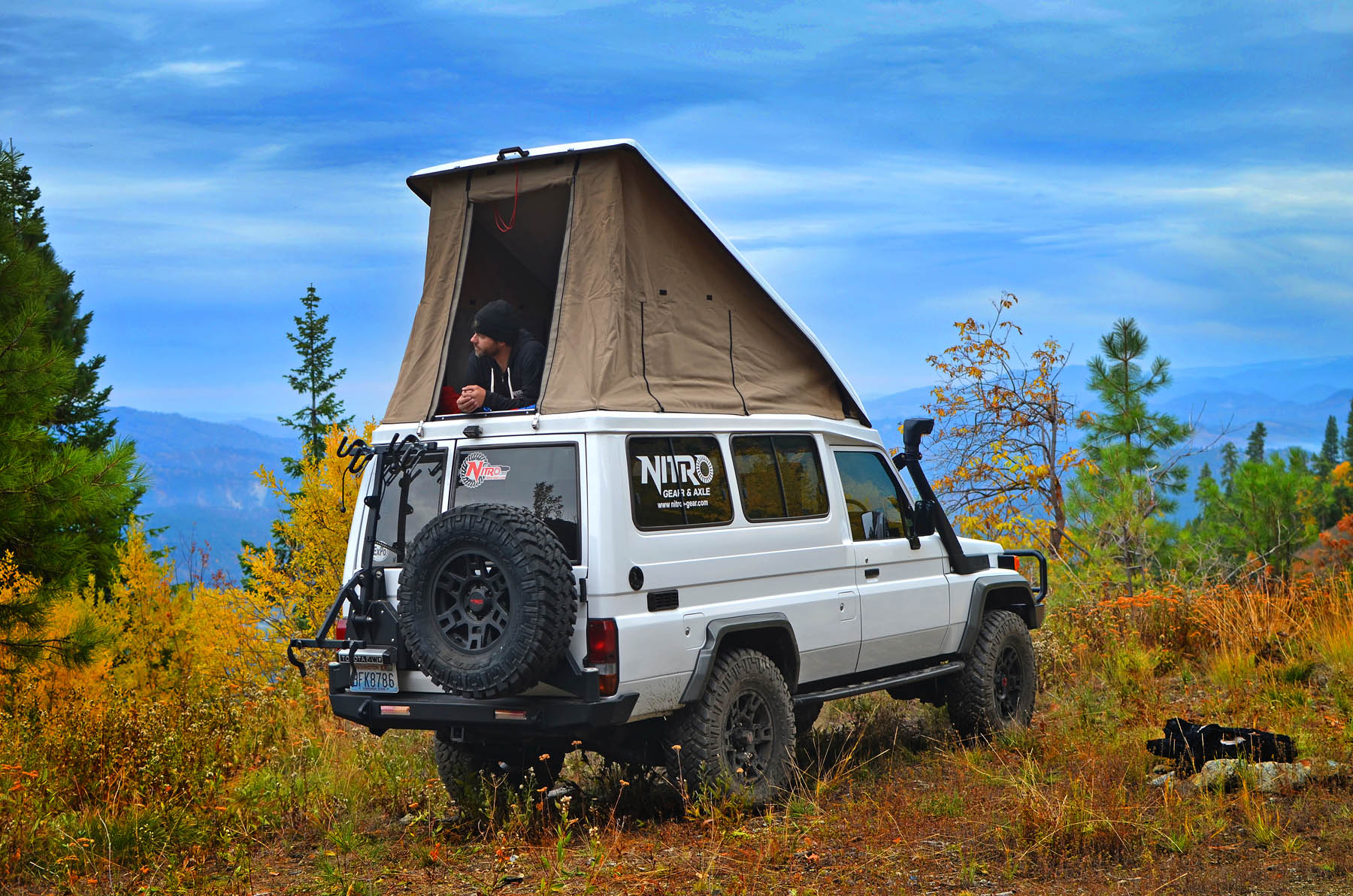 About The 1987 Trakka Toyota Land Cruiser HJ75.
This is a 1987 Land Cruiser 70 Series, a family of TLC's produced starting in 1984 as a replacement for the venerated 40 Series. Despite major changes in styling and numerous technological updates, the 70 Series was designed to retain the off-road capabilities and durability associated with the 40 Series while the 60 Series occupied a more luxurious, upmarket space. 
Toyota produced the 70 Series in a number of different configurations and models including the HJ75, which denotes that it was a diesel 6 cylinder long wheelbase Troop Carrier. It was designated as such because of its ability to carry 11 people (3 in the front, 8 in the back) with a pair of benches running front to back in the rear. Clearly this configuration such as this made the perfect base for Trakka's Bushman. 
Let the current owner Carl tell you all about this one: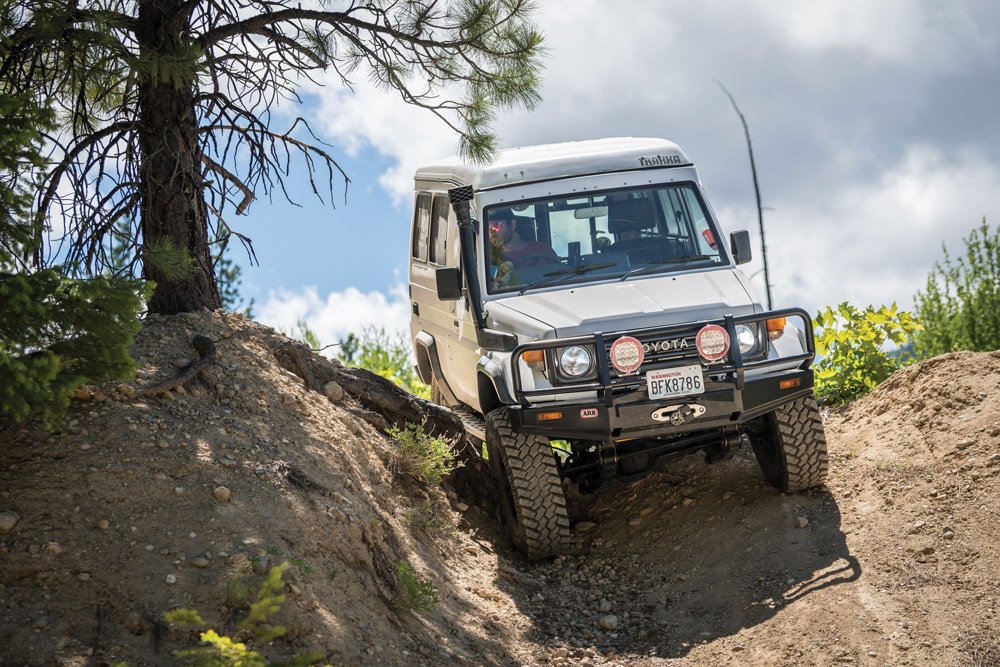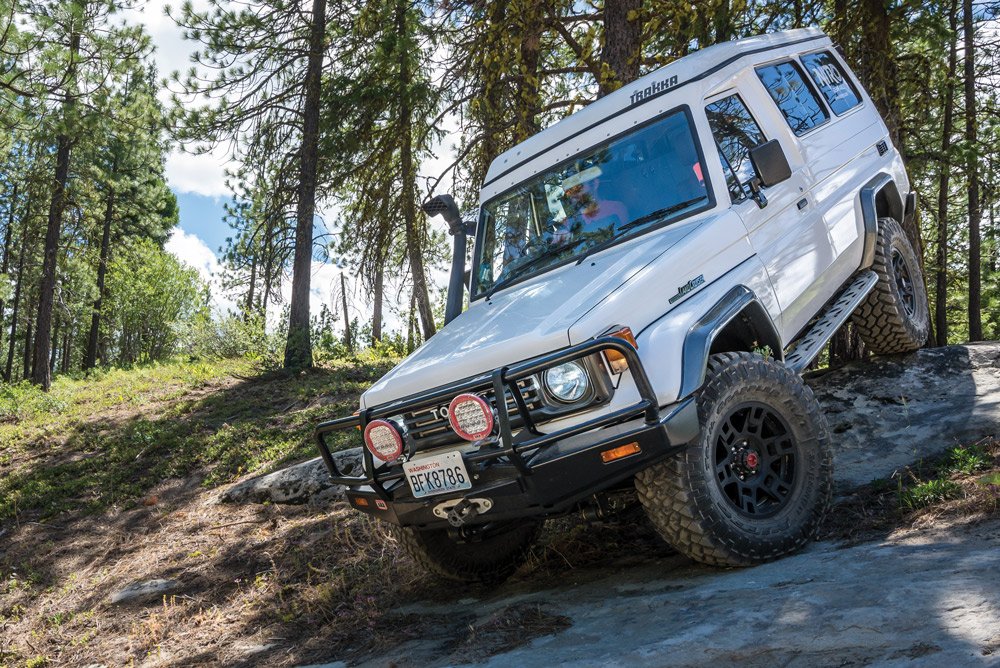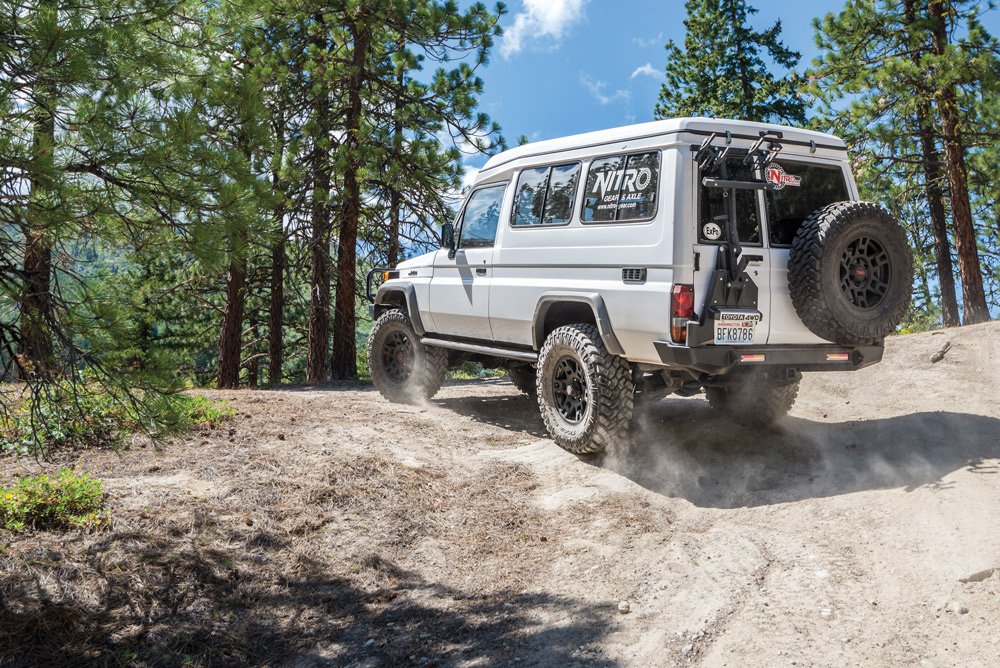 Land Cruiser HJ75 Build Specs & Condition.
Despite having covered over 250,000 miles, including some tough ones, this Troopy is in fantastic shape. It's a testament to having been loved over its 35 years, but also to the extensive amount of work Montoya has done in his years of ownership. There's a full recount of that work over on Expedition Portal, but here are the highlights:
MECHANICAL & PERFORMANCE: 
Torfab 1HD-FT diesel engine 

Gturbo 

PDI intercooler 

Custom air intake with Snorkel Mode switch 

Full Throttle AGM batteries

Dual gas tanks
SUSPENSION: 
ARB BP51 shocks

Upgraded sway bar

32-spline chromoly Pro Series  Nitro Axle Shafts

Chromoly Nitro Birfields

ARB AirLockers

Nitro Gear HD 4.10 ring-and-pinion
INTERIOR: 
Scheel-mann seats

Trakka pop-top

Goose Gear S-Series cabinets and  bed platform

Espar diesel furnace

Expedition Essentials rear door stove mount

Custom Sunbrella tent

Dometic fridge, sink, and cartridge toilet
EXTERIOR: 
35" x 11.5" Nitto Ridge Grapplers 

17" TRD Pro wheels

ARB front bumper

Expedition One/Cruiser Outfitters  rear dual swing-out with custom  bike rack

Custom DC Fab rock sliders

ARB intensity lights

Warn winch

ARB twin compressor
READ MORE FEATURES.
Like this 4x4, but not sure if it's exactly right for you? Perhaps one these other amazing featured 4x4 rigs for sale might be just the one for you.